Journey and Story Sharing Books
"The beautiful journey of today can only begin when we learn to let go of yesterday." ― Steve Maraboli
Welcome to the Journey on Canvas Bookstore
Find spiritual, creative, and inspirational books at Journey on Canvas. Learn how to use a journal and your artistic expression to help to share your story. Find encouragement in the stories and creative processes of others.
One woman's story of hope and encouragement despite struggle, suffering and ordinary life challenges:
Alisa's life hasn't been easy. Like most, her past is filled with ordinary (yet considerable) challenges -common things not easily overcome. Looking back, she sees struggle and suffering, but she also finds much hope mingled with it. Alisa can see the hope because she has kept an account of it: on papers with a pencil, upon canvases with a paintbrush, using torn papers, pastels, glitter and ink. Reflecting on this account, Alisa discovers that someone has been with her through it all: an ever-present, personal and loving God. Dancing in the Doghouse is Alisa's inspirational story of hope. She shares it for the chance that others will see its hope, know it and share it too.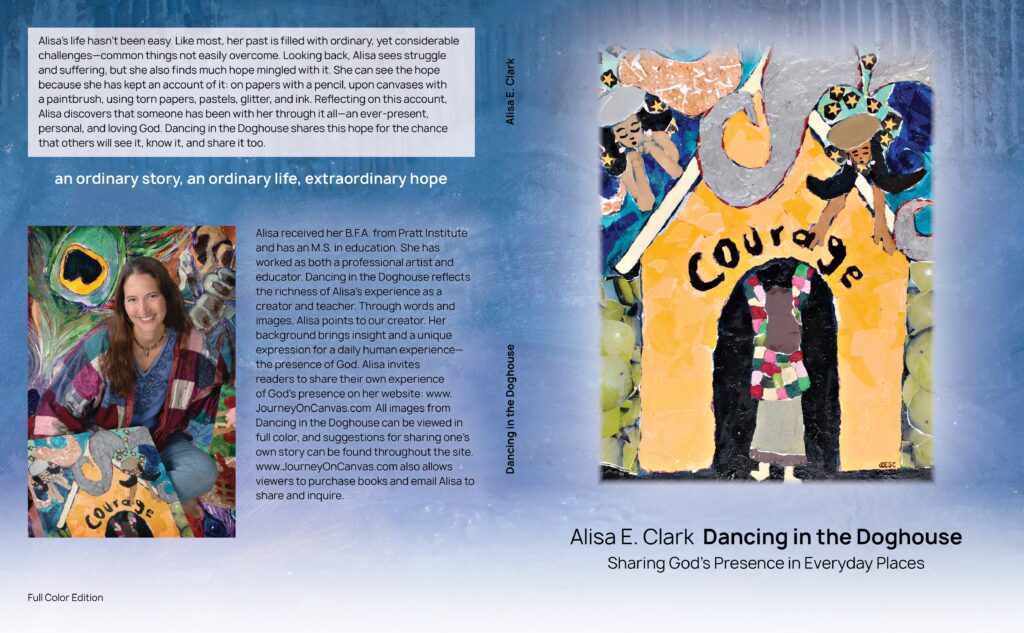 -an ordinary story, an ordinary life, extraordinary hope
I dream about the past on my canvas. I see the loved ones that I have lost. I imagine seeing them within the places we lived life together. One day, I will return to these people and the places and spaces that we shared. Until that day comes, I paint it all. Art gives me a way to make sense of my past in the present moment. Each canvas is an opportunity to capture memories and express the feelings they release. Through example, inspiration, word, and image, "Painting Memories" encourages the expression of memory and emotion through creative process.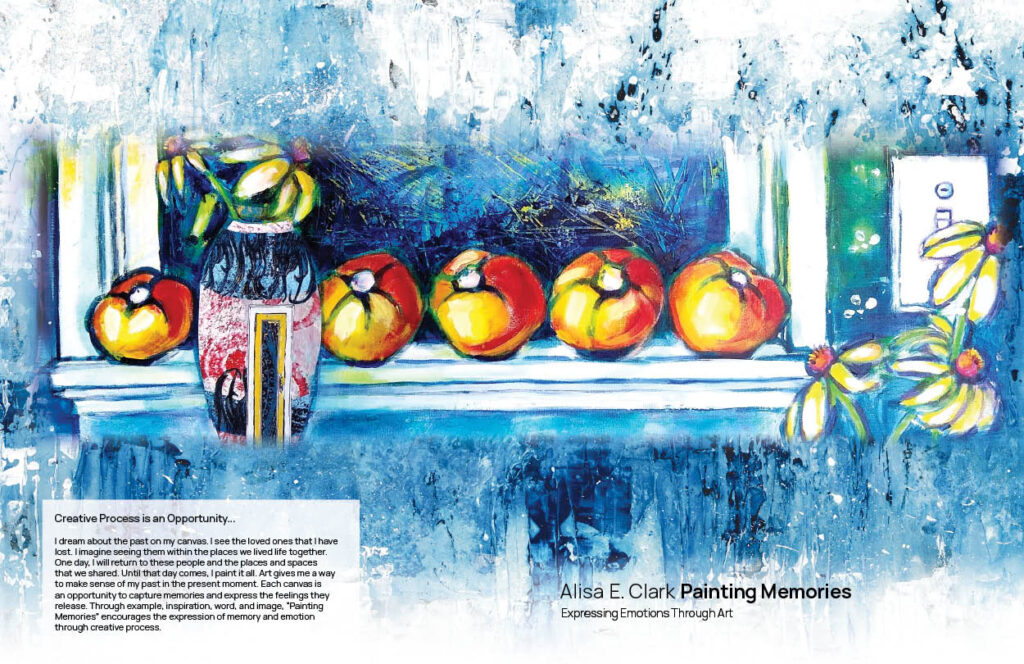 Creative Process is an Opportunity.....
Looking back on my paintings leaves me grounded in truth. It's the truth that tomorrow I will have my paintbrush ready. I see how much I have grown and learned on my journey, and I thank my canvas. It lets me move ahead with my memories. It lets me experience the past. I journey back, sit in the present moment, and move forward to a more hopeful future with a stroke of red, a splotch of black, and a scrape that reveals bright yellow. I dig in my paints, and I remember. I cut, scrape, pull, and swirl the colors as I recall the past. The process of reflecting on memories and experiencing the emotions they evoke lets me see the hope. I do this with a canvas and a paintbrush. I can't imagine a world where others don't do this too. Read Painting Memories. Then, please paint with me and remember.
Art and Liminal Space is the compilation of an artist's work with reflections that explore liminality's influence upon it. Liminal spaces are seen through the lens of a mindful art maker. The spaces are then painted and described with an artistic eye. A deeper understanding of the time we spend between "What Has Already Happened" and "What's Coming Next" is found through the artist's process. From within the creative flow, in-between moments are captured with a paintbrush and the artist's voice. A better understanding of our "In-Betweens," and ways art can give us hope in those places no matter how hard our present places may seem, waits inside Art and Liminal Space.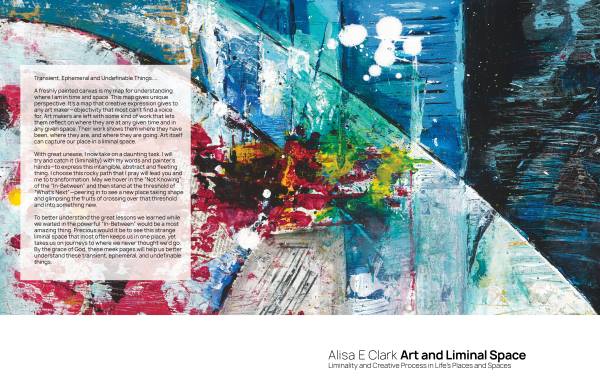 Transient, Ephemeral, and Undefinable Things...
A freshly painted canvas is my map for understanding where I am in time and space. This map gives unique perspective. It's a map that creative expression gives to any art maker—objectivity that most can't find a voice for. Art makers are left with some kind of work that lets them reflect on where they are at any given time and in any given space. Their work shows them where they have been, where they are, and where they are going. Art itself can capture our place in a liminal space.
With great unease, I now take on a daunting task. I will try and catch it (liminality) with my words and painter's hands—to express this intangible, abstract and fleeting thing. I choose this rocky path that I pray will lead you and me to transformation. May we hover in the "Not Knowing" of the "In-Between" and then stand at the threshold of "What's Next"—peering in to see a new place taking shape and glimpsing the fruits of crossing over that threshold and into something new.
To better understand the great lessons we learned while we waited in the powerful "In-Between" would be a most amazing thing. Precious would it be to see this strange liminal space that most often keeps us in one place, yet takes us on journeys to where we never thought we'd go. By the grace of God, these meek pages will help us better understand these transient, ephemeral, and undefinable things.
Alisa shares the power of mindfulness painting in her recent book titled:
Mindfulness Paintings: A Book of Creative Meditation Exercises, Artwork, and Art Activities
This book explores mindfulness painting and its power to bring us peace, enter us into the present moment, and make us more fully aware. Whether you are a beginner or an experienced artist, this book will help you enter the "Mindful Zone" through a variety of painting and meditative experiences.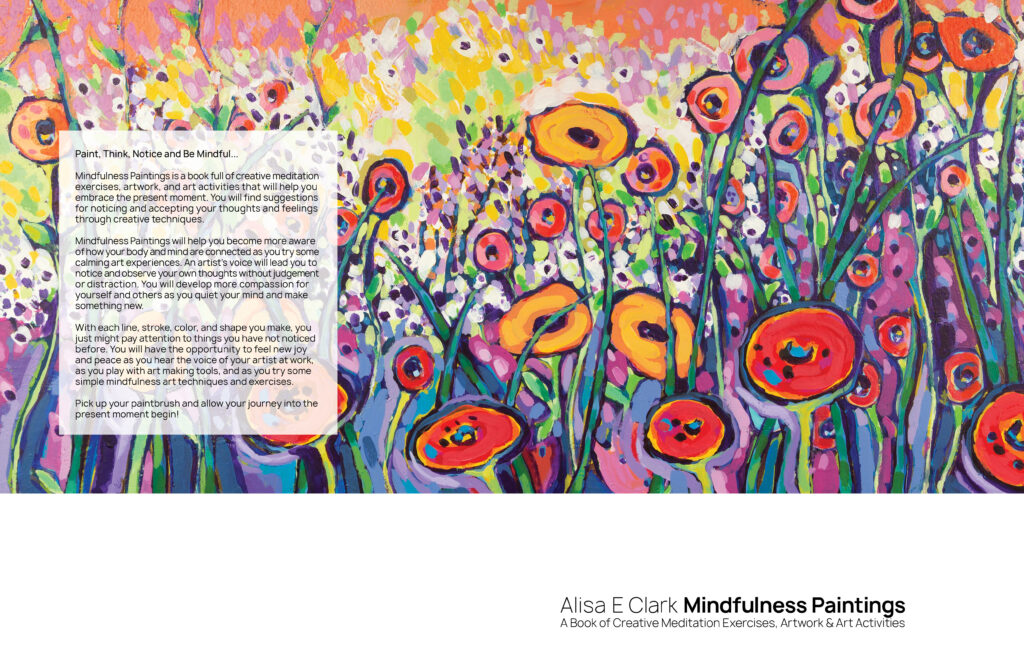 Paint, Think, Notice and Be Mindful…
Mindfulness Paintings is a book full of creative meditation exercises, artwork, and art activities that will help you embrace the present moment. You will find suggestions for noticing and accepting your thoughts and feelings through creative techniques. Mindfulness Paintings will help you become more aware of how your body and mind are connected as you try some calming art experiences. An artist's voice will lead you to notice and observe your own thoughts without judgement or distraction. You will develop more compassion for yourself and others as you quiet your mind and make something new. With each line, stroke, color, and shape you make, you just might pay attention to things you have not noticed before.
Alisa received her B.F.A. from Pratt Institute and has an M.S. in education. She has worked as both a professional artist and educator. Alisa believes that creative expression has power—power to help us find hope as we wait in life's most challenging places and spaces. She believes artistic expression can give us encouragement no matter how hard our present place in time and space may seem. Alisa shares to encourage artistic expression as a tool for understanding one's journey. It's also a place for experiencing the spiritual benefits of engaging in the creative process and discovering ways to find hope as the journey unfolds. Alisa shares, through words and images, things she has painted, written, tried, or considered. She invites you to find hope within this sharing. Creative expression is all about hope. Alisa's books share the theme of hope so others will seek and find the hope, too.
Creations and explorations for my next story…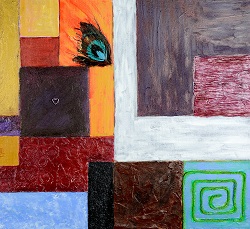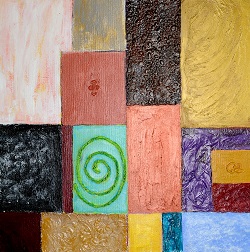 The memories I have are pieces that fit together to make me. Each memory has changed me: not always in good ways and not always in bad ways. God takes both the good and the bad and somehow he fits it together in a way that works. Memories are a part of me and I accept them. I try to figure out how each one can be used to make a better me.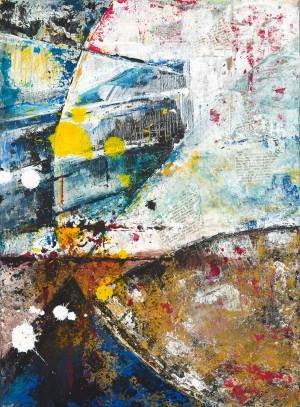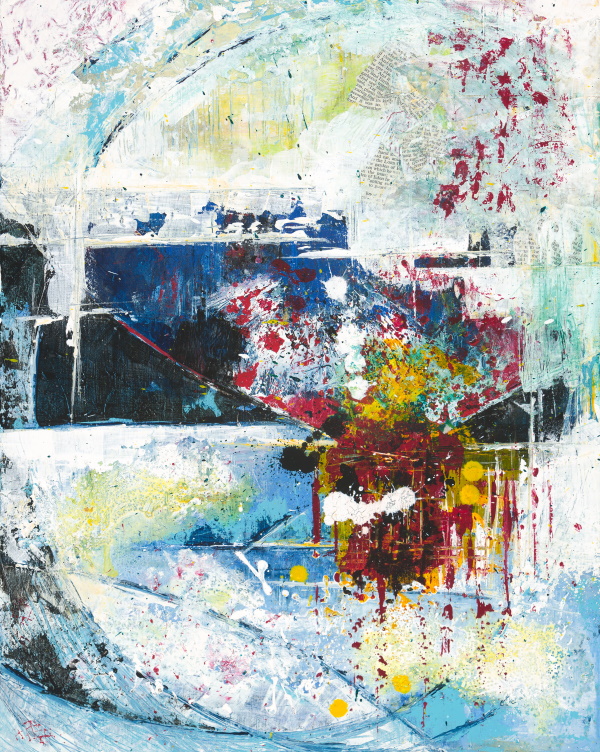 Part of His Universe,
2019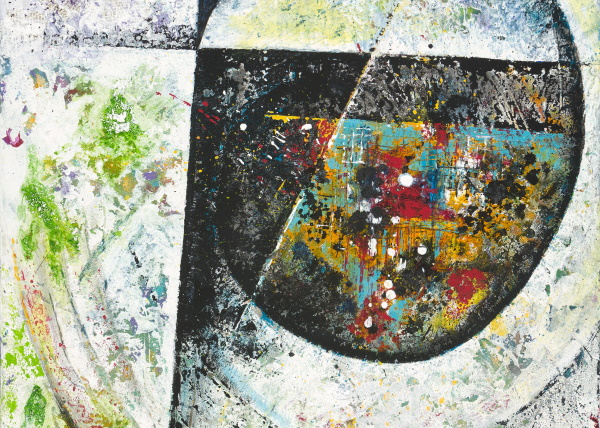 In a world where so many people are afraid of "different," it is not surprising that people shame others for honestly being themselves. They say the "different" people believe lies. In a vast universe "different" looks an awful lot like truth to me. I want people to see a universe inside this painting: a universe where everyone is called to display their uniqueness and diversity. I want you to see a world where a person's honest attempt at authenticity is held high—a place for everyone everywhere. People spend a lot of time thinking about what other people are doing wrong. All I can think is that I can never get it right: that no matter how hard I try to balance grace and truth, I fail. To make peace with this, I've decided to pick a side. My side is embracing grace over truth. Finally, it is no longer my job to figure you out. Figuring me out is challenging enough. Now we both get some grace from me. The universe just got a tiny, tiny bit better.
Add Your Heading Text Here